Alternative Method of Instruction (AMI) Work
Please click on the work needed for the AMI days. Remember that the student is only suppose to do one lesson per core class per day missed. All student assignments will be sent home in the packets. This webpage is to be used if a student loses the assignment or if the student does not have the packet with him/her at the time of the winter storm.Kindergarten: Mrs. Tramell: Snow Day 1, Snow Day 2, Snow Day 3, Snow Day 4, Snow Day 51st Grade: Mrs. Hornbacher: Snow Day #1, Snow Day #2, Snow Day #3, Snow Day #4, Snow Day ...
---
Spirit Week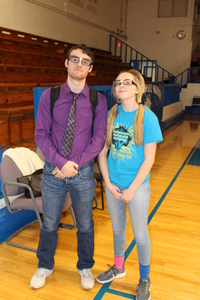 Monday: Clique DayTuesday: Twin DayWednesday: Crazy DayThursday: TV/Movie Character DayFriday: Blue & White Day...
---
Rachel's Challenge Assembly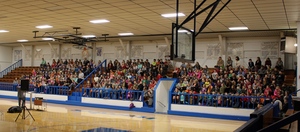 Rachel's Challenge ....more to come....
---
FBLA District VI Spring Conference
Seven members, along with their advisor, Mrs. Emily Little, attended the FBLA District VI conference last Friday, January 19th. Of those competiting, Rachel Brummund won 1st in Entrepreneurship and Misty Recoy placed 6th in Business Law. Rachel will compete at the state conference later this spring....
---
November 2017 Terrific Kids - Warrior of the Month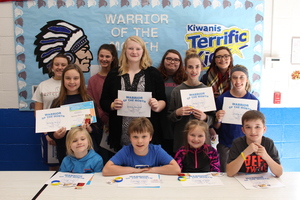 November Terrific Kids - Warrior of the Month First Row: Kindergarten: Eli Smith (not pictured); First Grade: Sarah Flud; Second Grade: Donnie Flud; Third Grade: Maddyson Waldon; and Fourth Grade: Tate Dixon. Second Row: Fifth Grade: Geneva McCoy, Sixth Grade: Sydney Marshall; Seventh Grade: Paige Chaney; and Eighth Grade: Jordyn Jackson. Third Row: Ninth Grade: Hannah Torres; Tenth Grade: Hailey Woods; Eleventh Grade: Misty Recoy; and Twelfth Grade: Kailea Rutt....
---
Rapid Response Food Drive
From now until December 11th, K-6th grade students will be collecting non-perishable food items for the Western Grove School's Food Drive conducted by the Rapid Response team. The class with the most collected items will be rewarded with a movie and popcorn. Food drive boxes are located in the foyer, library, and the students' classroom. If you have any questions, contact Shari Cartwright at school for more information....
---
ACT All-Stars
ACT All-Stars is an honor recognition for any student at Western Grove who scores a composite score of 24 or higher on the ACT test. Students will be added who meet this requirement throughout the year.Class of 2018 Abbi Breer: 30Matthew Martin: 30 Katara Surber: 26 ...
---
AP Language and Composition Top Ten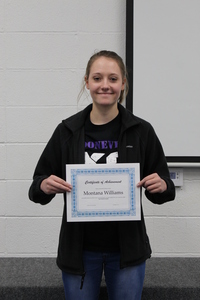 Montana Williams, a junior, recently was awarded a certificate for being in the top ten students in Arkansas taking the AP Language and Composition class through Virtual Arkansas. ...
---
Thanksgiving Dinner at Western Grove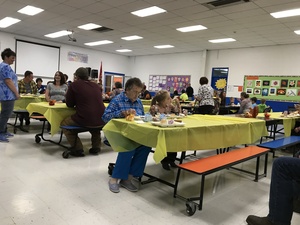 On Friday, November 17th, Western Grove school served Thanksgiving dinner to 446 students and their families, faculty and staff....
---
Red Ribbon Poster Contest Winners
Free Hand Division: K-4: 1st: Sadey Woods, 2nd: Hannah Wheeler, 3rd: Breanna Dye5th-8th: 1st: Joseph Breer, 2nd: Malaurah Collins, 3rd: McKenna Surber9th-12th: Abbi Breer, 2nd: Grace Martin, 3rd: Rachel BrummundComputer Generated Division:5th-8th: 1st: Brooklyn Carter, 2nd: Not Pictured: Joshanna Middleton, 3rd: Matthew Holland9th-12th: 1st: Nathan Griggs, 2nd: Karley Humphrey, 3rd: Victoria Wilkinson...
---
Veterans Day Assembly Photos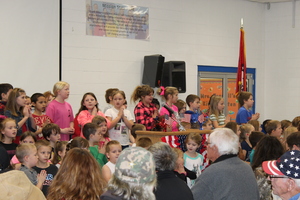 Thank you for your service!...
---
October 2017 Terrific Kids - Warrior of the Month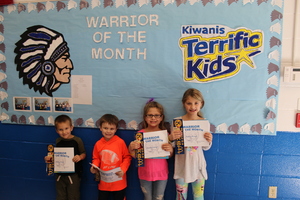 K-4: Kindergarten: Dillon Hollis, First Grade: Ricky Middleton, Second Grade: Sarah Garner, and Third Grade: Sadey Woods, Not Pictured: Fourth Grade: Lakyne Zabawa.5-8: Fifth Grade: James Arnold, Sixth Grade: Brooklyn Carter, Seventh Grade: Harley Lea, and Eighth Grade: Carlee Smothers.9-12: Ninth Grade: Tru Cartwright, Tenth Grade: Karley Smith, Eleventh Grade: Hunter Baker, and Twelfth Grade: Katara Surber....
---
September 2017 Terrific Kids - Warrior of the Month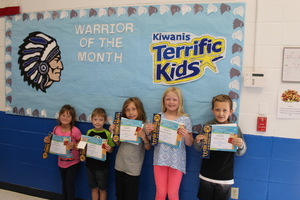 Elementary Terrific Kids - Warrior of the Month: Leah Wignington, Kindergarten; Hunter Ray, First Grade; Kayleigh Wise, Second Grade; Hannah Wheeler, Third Grade; and Trayton Cross, Fourth Grade.Middle School Terrific Kids - Warrior of the Month: Cobie Chaney, Fifth Grade; Cole Yancey, Sixth Grade; Cadience Jenkins, Seventh Grade; and Yameka Hoppis, Eighth Grade.High School Terrific Kids - Warrior of the Month: Karley Humphrey, Ninth Grade; Brittney Winn, Tenth Grade; Kayla Dye, Eleventh Grade; and Kortnie Sisco, Twelfth Grade....
---
National FBLA Conference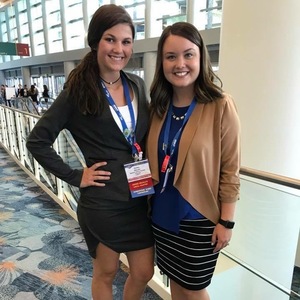 This past summer, Hailey Woods, along with Mrs. Katie Oakes, former Western Grove FBLA Advisor, and members of their families attended the FBLA National Conference in Anaheim, California. Hailey competed in Business Procedures. Congratulations to Hailey for making it to nationals and representing Western Grove FBLA well....
---
Boys and Girls State Representatives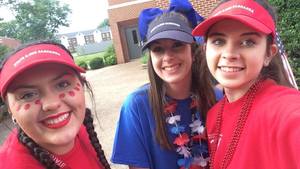 Three Western Grove students attended Boys and Girls State this week, May 28-June 2. Abbi Breer and Katrina Fiveash participated at Girls State in Harding, while Ethan Dickey participated at Boys State at UCA. Thank you to the American Legion in Jasper for sponsoring these students. ...
---
Checking Grades
Using Home Access, you are able to check your child's grades at any time. If you are unable to access HAC, please contact Micki Marshall at mmarshall@omsd.k12.ar.us or 429-5215 x 403 to reset your password. You may use the Eschool link on this website to access that information. ...
---
Notes from the Nurse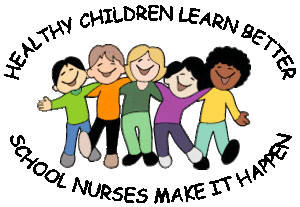 Click here about information on your child's immunization records....
---